The itchy situation happening under my beanie.
The word beanie. Eww. OH! and now the word "Eww". Somebody stop me!
Driving around with my gas cap hanging open.
The guy honking at me to roll down my window so he could tell me that my gas cap was open and the other cars honking at us to go because the light turned green.
Watching the pick up guy get towed in the Albie's parking lot.
Dinner for Schmucks—the whoooooooole movie (don't recommend it, but I did rewind the part with Steve Carell leaving a message situation three times).
The lady parked next to me at the post office watching me play with the light with the camera on my phone (when there's awesome light I try to create good lighting patterns on anybody within my reach and I happened to be the only one around so that means I was my model.... and the lady next to me got a little comedy show).
The hair or eye lash or whatever that has been annoying my left eye all. day. long. I'm ready to dunk my whole head in the toilet and push the flusher!
My blue fuzzy socks I have been wearing in place of my slipper boots while they were in transit to here from Idaho (but now the boots are back and the socks have served their purpose).
The nasty plastic snake my dad put at the top of the box we had shipped.
My unquenchable craving for tacos—authentic, corn tortilla, cilantro and lime.
All of YOU who been even more amazing and supportive than I
ever
imagined! I have loved your encouragement and letters. Thank you, thank you, thank you, thank you, thank you!
The feature of Photo by Geri on the Daybook today. Holla! AND the 20% discount I am giving
on image discs for shoots that are booked in the month of January.
The nice wave that my hair decided to do when it air-dried today.
EA Active 2—AMAZING work out and pretty much fun (this from a girl who
hates
to exercise and
hates
the gym even more).
This new lose-lots-of-weight life style I have created for my little self.
The Biography channel on Hulu (I have a little somethin-somethin going in the corner of the screen while I work away).
Getting all sorts of packages in the mail (it's like Christmas all over!).
My slipperboots are home and on my feet again!
All of the awesome shoots I've been working on lately........ fun stuff will go up on the blog :)
Everyone who decided to join up in my quest to get all of my old clothes back.
Finding a check (worth lots of $$) that I thought was lost. I was completely sick about it. When I found it I cried and my sissie got to hear all of it.
MyFitness Pal—the best calorie-exercise-weight loss-tracker I have ever found.
.................................
.................................
.................................
.................................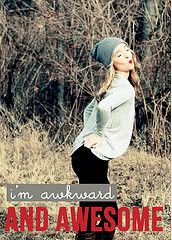 My good pal Sydney over at The Daybook does her Awkward/Awesome posts every Thursday. There have been so many awkward/awesome situations these days that I haaaaad to do up ma very own.
If you've got some awkward and awesome things happening in your life right now, give it a go. It's quite the party! :)
ALSO! don't forget to head over to The Daybook and check out the feature on Photo by Geri. And remember the 20% discount on image discs when a shoot is booked by the end of January!